APPENDIX II - DISGUISES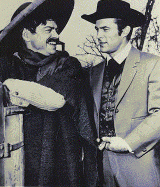 Jim tries out disguises on eight separate occasions; however, as he never changes his appearance by more than the addition of a mustache, it's hardly surprising that on all eight occasions he's caught out by people who either know what the man he's impersonating is supposed to look like, or know what "James West: Secret Service agent" looks like.
Artemus, on the other hand, has a great deal more luck. Less than half of his disguises are penetrated, and they occasionally fool even Jim. Artemus puts his acting ability to good use, and we can honestly say that the theater obviously lost one hell of an actor when he joined the Secret Service. He imitates not only accents, but men's voices well enough to fool people who know them. He's a dab hand at the makeup, and obviously pretty good at sewing as well, for it's highly likely he makes most of his costumes. To all intents and purposes, he can pull on another persona in a few seconds flat.
What follows is a nearly comprehensive alphabetical list of Artie's disguises, including the name, if one was given intelligibly, and a brief description (no promises on the accuracy of the spelling, which is just a guess). An asterisk indicates a penetrated disguise, referencing a short note in parenthesis explaining how he was found out.

- Aaron Addison - old man, shaggy gray/white hair and full beard, charcoal pants, tan shirt, dark green vest, dark brown jacket and hat ("Legion of Death")
- Angus MacGordon - secretary, traveling companion and bodyguard - brown check coat, vest and hat, brown pants and tie, light brown hair, muttonchops and mustache, glasses, Scottish accent ("Tottering Tontine")
- Arabian gentleman* - long white headdress, striped headband, white robes, rings, goatee and mustache (*Emir reveals him - Wiggins admits that, though they were watching for Artie, they didn't recognize him) ("Grand Emir")
- Arturo Caruso del Artemo - Italian baritone opera singer - black suit, light gray cloak, gray vest, black tie ("Whirring Death")
- Ascot Sam (impersonation)* - gray pants, striped brown jacket, red brocade tie, yellow vest, cane, gray top hat with white band, handkerchief in outside left breast pocket, orange spats, gray gloves, thin mustache (*real man shows up) ("Poisonous Posey")
- Asian illegal immigrant and member of tong - black robes, wide coolie hat ("Dragon Screamed")
- Assistant to Secretary of State - black suit and top hat, gray vest, black bow tie, glasses on ribbon, overweight, gray hair and sideburns ("Skulls")
- Belden Scoville Jr - timid accountant - black suit, vest and tie, white shirt, black hat, glasses, long sideburns, cane with silver hook ("Undead")
- Bluebeard - French Canadian trapper - brown shirt, fringed buckskin jacket and pants, coonskin cap, beard and mustache, bushy eyebrows ("Firebrand")
- Captain Hull - British sailor - black pants and coat with gold buttons, gold braid on sleeves, white shirt, open collar, bushy black beard, no mustache, chewing tobacco ("Egyptian Queen")
- Captain Sumatra* - Asian weapons dealer - brocade vest and robes, half bald, black pony tail (*exposed by man Jim saved) ("Dragon Screamed")
- Claude Renard - French "wine-taster extraordinaire" - dark gray striped suit and vest, black bowtie, light gray gloves and hat,
mustache ("Death-Maker")
- clown - white clown suit with black dots, big dark buttons, white hat with feather, frills, white face and large mouth, painted nose, blackish hair ("Sudden Death")
- Colonel Cross of the "Patriots" - gray uniform with dark and light piping, medals, cap, goatee and mustache ("Red-Eyed Madmen")
- Colonel Doyle - British gent with gout - tan pants and dark brown jacket, brown plaid tie, soft brown cap, black hair and thick mustache ("Sedgewick Curse")
- Colonel Hernandez Del Valle Santiago y Sanoval - Mexican army officer - uniform with gold buttons and trim, black pants with wide stripe, epaulettes, medals, hat, monocle, mustache and sideburns ("Freebooters")
- Colonel Tacitus Mosely (impersonation) - brown coat, light brown pants, gold/tan vest, brown tie, long sideburns and bushy eyebrows ("Underground Terror")
- Colonel Vladislav de Raja, Duke of Korba - Hungarian aristocratic snob - white uniform, red ribbon decoration, high black boots, red pants with yellow stripe, gold epaulettes, gold belt, gray cape, gold medals, white cap, black mustache and goatee, monocle ("Diva")
- Cosina's father (impersonation)* - elderly Mexican peasant - white shirt and pants, serape, small sombrero, salt and pepper beard and mustache (*news of real man elsewhere) ("Spanish Curse")
- Count Draja (impersonation)* - red coat, black pants, knee high boots, black cape and hat, gold right hand, scar on left cheek, brown mustache, sideburns (*Draja's old flame shows up) ("Iron Fist")
- Count Felix von Schlesweig und Holtzbergen - black suit, light vest, striped tie, light gloves, black hat, white hair and sideburns ("Burning Diamond")
- crown prince of the Coral Islands (impersonation)* - bare chest, calf-length toga, feathered cape and headdress, necklaces and bracelets, sandals, British accent (*female thief knows what prince looks like) ("Two-Legged Buffalo")
- desert rat/guide - grayish shirt, tan vest with pockets, brown hat and pants, calf-high boots, blue bandanna, gray white shaggy hair, beard and mustache ("Montezuma's Hordes")
- Dirk DeJohn - jeweler - tan jacket, yellow shirt, brown pants and tie, brown and gold vest, brown flowered scarf, sideburns, small mustache, European accent ("Flying Pie Plate")
- doctor - black suit, vest and hat, gray tie, black bag, glasses, pocketwatch in outside coat pocket ("Dr. Loveless Died")
- Dr. Crane (impersonation) - black suit and vest, thin tie, glasses, salt and pepper beard and mustache ("Doomsday Formula")
- Dr. Emmet Sloan (impersonation) - brown pants, darker brown coat, black hat, black vest, white shirt, black bag, glasses, gray hair, mustache and beard (disguise thrown together in less than five minutes) ("Fire and Brimstone")
- Dr. Marvin Gentry - anthropologist, St. Louis Anthropology Museum - checkered coat drawn in at waist with belt of same material, brown pants, burgundy tie (like modern tie), glasses, slicked down hair, long thick sideburns ("Simian Terror")
- Dr. Neinkindorf - Austrian geologist professor- gray jacket, white pith helmet, shoulder bag, light shirt and pants, dark thin tie, high boots, glasses, hair parted down middle, sideburns and mustache ("Human Trigger")
- Dr. Ramon de Petritier - physician/ professor at the Sorbonne - black suit and vest, gray tie, white lab coat, glasses on ribbon, cane, mustache and beard ("Dr. Loveless Died")
- Dr. Theobald Raiker (impersonation)* - black suit, vest, thin tie and hat, gold watch chain, black/gray mustache, beard and hair (*wife appears) ("Gruesome Games")
- Dr. Zorbis - traveling magician - black suit and thin tie, burgundy vest, frilly white shirt, top hat, cane up sleeve, sideburns, thin mustache ("Amnesiac")
- drunken sailor sleeping on table - black coat and knit cap, dirty white shirt, brown pants, wide brown belt, unshaven ("Deadly Bubble")
- drunken sheriff in Panhandle Strip - brown pants, dark brown shirt, pelt vest, gunbelt, scarred face, unshaven ("Bubbling Death")
- drunken/ragged ex-soldier (Union) - ragged uniform, stubble, jug of shine ("Inferno")
- Ellsworth Caldwell - boisterous Texan property-owner - tan jacket with fringe along arms, tan pants, red plaid shirt, slim brown tie, white hat, shoulder-length black hair, mustache and goatee ("Juggernaut")
- Emmerson P. Gentry - southern gentleman - charcoal coat, burgundy vest, light gray hat, black and white dotted bow tie, brown mustache and sideburns ("Circus of Death")
- Express man - horizontally striped shirt with sleeves pushed up to elbows, gray pants, belt, suspenders, derby hat, bandanna, Irish accent, mustache, pencil behind left ear ("Glowing Corpse")
- Fabrian Repro (? name unclear) - dousing, diving, etc - brown coat belted at waist, light brown knickers, brown socks and shoes, brown deerstalker cap, light brown vest and dark brown thin tie, blond/light brown hair, sideburns and droopy mustache, British accent ("Underground Terror")
- fancy waiter - red vest with black sleeves, black pants, white shirt, thin black tie, thick sideburns and mustache ("Turncoat")
- Felice Munez (impersonation) - gangster from the Barcelona syndicate - black hat and suit (short jacket with brocade lapels), white frilled shirt, thin black tie, vest, black goatee, mustache and sideburns ("Falcon")
- Felix (impersonation) - henchman - dark coat, brown pants, black tie, grayish shirt, dark glasses, cane, mustache and sideburns, hunchback and limp ("Deadly Bubble")
- Feodore Rimsky (impersonation)* - slate suit and vest, white shirt, black tie and hat (*wife appears) ("Tartar")
- French (Creole?) sailor with crutch - black turtleneck, brown pants tied at waist with wide belt, knit cap with long tail, beard and mustache ("Kraken")
- Gaston LaRusse - Frenchman - Academie Francaise - black cloak and hat, white scarf, black suit, black vest, striped tie, cane, glasses on black band, goatee, mustache ("Torture Chamber")
- gem merchant - black suit, vest, hat, and thin tie, gray cloak, blond/brown hair, sideburns and mustache, tiny goatee, collection of real(looking) gems in large black box ("Assassin")
- General Lee (impersonation) - Confederate Uniform: light blue pants and long coat with gold buttons, tan belt, white hair, beard and mustache, southern accent ("Fire and Brimstone")
- General Rodell (impersonation) - black cavalry uniform with gold buttons and epaulettes, black sideburns, mustache and goatee ("Pistoleros")
- Grand Elector of Saxony (impersonation) - uniform with sash, lots of gold trim, white gloves, long coat with tails, medals, mutton
chops ("Dancing Death")
- grizzled "oldtimer" - red and white plaid shirt, dark brown pants, reddish tan vest, black hat, white long-sleeved undershirt, dark stubble, tousled hair ("Gruesome Games")
- gypsy organ grinder - green shirt, brown vest and pants, black hat, dark mustache and sideburns ("Feathered Fury")
- Hallelujah Harry (impersonation)* - itinerant preacher - black suit, white shirt untucked some, thin black tie, top hat, scruffy, slouches, mumbles, pickpocket (*arrival of real man) ("Fugitives")
- Hans - new embassy night chef - white shirt, bandanna and chef's hat, burgundy pants, mustache and sideburns, accent ("Big Blackmail")
- Hassan Amir Ortublo (? name unclear) - Arabian arms buyer - white turban with black headband, yellow shirt with white lapels, yellow and red tie and vest, black suit, large black mustache, dark glasses (small, reddish round lenses), case cuffed to left wrist ("Doomsday Formula")
- Henri Bijeau - Frenchman with "Lubbock's distemper" - black jacket, gray pants, burgundy vest, black bowtie, thin mustache, gray hair at temples, gold watch and chain across vest ("Sedgewick Curse")
- Herr Ostropolyer - Austrian chef - white chef outfit and hat, pink long-sleeved undershirt, black and white hair and mustache ("Infernal Machine")
- impersonates henchman - red shirt with sleeves rolled back, brown suspenders and pants, white long-sleeved undershirt, shaggy black hair, mustache ("Kraken")
- Indian fakir - yellow/gold robes, turban, black shoes, beard and mustache ("Golden Cobra")
- Indian "brought low by white man's vices" - white shirt, white pants, moccasins, gray vest, black hat, long braids ("Double-Edged Knife")
- Indian woman - buckskins, longish unkempt hair ("Green Terror")
- itinerant merchant in ties and fake jewels - long black coat, white shirt, suspenders, black hat, very rumpled, tousled hair ("Gypsy Peril")
- Jacques Beaumont - French Canadian aristocrat - brown coat, tan pants, dark brown tie, white shirt, gold/tan vest, neat thin mustache, long sideburns ("Firebrand")
- Jeremiah P. Threadneedle - traveling salesman: lady's corsets - dark gray striped suit with black lapels, top hat with light
band, gray vest and tie ("Bars of Hell")
- Jewish tailor* - black suit, vest and tie, white shirt, glasses, beard and mustache, Yiddish accent, measuring tape, pincushion on left wrist (*Widow Dodd recognizes him as Artie) ("Vicious Valentine")
- Joe - piano player at saloon - yellow shirt with white collar and cuffs, brown check suit, vest and pants, black garters on both arms, black tie, brown bowler, mustache ("Cut-Throats")
- Jonathan Ashley Kingston - traveling Shakespearean player - long black overcoat, black coat and hat, white shirt, thin black tie, brown trousers with horizontal strips ("Running Death")
- Kelton - traveling salesman - brown checked suit, green vest, peach tie, dark brown bowler, mutton chops and mustache, lower class British accent ("Cadre")
- Kevin Kemble - actor - black jacket, vest and thin tie, checked brown pants, black bowl-cut hair with bangs ("Plague")
- King Stefan (impersonation) - imperial green uniform with fur, cloak and fancy hat, black curled mustache and sideburns (not intended to mimic actual man, but to display an image of royalty, to draw fire - J describes him as a sitting duck) ("Wolf")
- King Stefan (impersonation) - red and gold jacket with medals, blue sash, salt and pepper hair and mustache (this time not as decoy - looks like real man) ("Wolf")
- Leroy Halvorsen - white shirt, tan pants, open vest, thin black tie, tan cowboy hat, large paunch over wide brown belt, white hair, mustache and beard, chewing tobacco, Texas accent ("Assassin")
- Leto (impersonation) - henchman - convoluted mask within a mask situation: impersonates Leto, impersonating him - green tunic, black pants and belt, knife and truncheon ("Brain")
- Lieutenant Greeley - southern cavalry officer - blue and yellow cavalry uniform, blond hair and long drooping mustache ("Arrow")
- Lightnin' McCoy (impersonation) - Mexican gunslinger - black jacket and pants, brown shirt, black hat, high boots, gunbelt, large droopy mustache ("Surreal McCoy")
- Mexican peasant - white loose shirt and pants, rope belt, straw serape, coal basket, horn-shaped canteen, mustache ("Deadly Bed")
- Mexican priest - black cassock, hat, glasses, long sideburns ("Assassin")
- Mexican soldier - white shirt and pants,
sash belt, serape, faded brown bandanna, big sombrero, scruffy and patched, brown droopy mustache ("Spanish Curse")
- Mexican soldier - red and gray uniform, gray pants, mustache ("Assassin")
- Mexican soldier of high rank - thigh-length blue coat, red cap, white pants, lots of decorations, belt, gray hair and mustache ("Eccentrics")
- minister - long black coat, black pants and hat, dog collar, glasses, long sideburns ("Assassin")
- Mojave Mike - gray shirt, dark pants, black ragged vest, checkered bandanna, crumpled hat, calf high boots, dusty, bag over shoulder, low slung gunbelt, gray ragged hair, beard and mustache ("Fatal Trap")
- Moroccan-looking fellow - (reversible side of the Aaron Addison disguise) - red cap, striped vest, brown pants, tan shirt, thin mustache ("Legion of Death")
- Mr. Fargo (impersonation) - smith - brown fringed jacket and pants, dark gray shirt, brown bandanna, gray hat, white hair and droopy mustache ("Bogus Bandits")
- Mr. Lindsey - southern gentleman and artist - dark brown long coat, black hat, white shirt, large black tie (big knot), black pants, sideburns, neat mustache and tiny goatee ("Bogus Bandits")
- Mr. Scroggs (impersonation) - the "electrocutioner" - dark gray suit, vest, hat, black gloves, light gray tie, glasses, thin mustache, gray at temples ("Bars of Hell")
- Ned Buntline (impersonation) - famous newspaper reporter - gray suit, brown hat, modernish gray tie, gray vest, thin mustache ("Vipers")
- old gas main reader - very nearsighted and feisty - black uniform with gold buttons, black cap, glasses, gray hair and mustache, goatee ("Avaricious Actuary")
- old janitor - faded blue pants and vest, soft blue cap, red bandanna, glasses, white mopish hair and mustache, half-deaf ("Circus of Death")
- old mailman - white shirt with blue forearms, blue pants, blue striped vest, blue tie and hat, mail bag, blond-gray hair, mustache and bushy eyebrows ("Turncoat")
- old priest at gravesite - black suit and hat, dog collar, white hair and sideburns, very wrinkled ("Skulls")
- old railroad duffer - gray shirt, jacket, bandanna knotted around neck, dark cap and pants, white hair and mustache
("Double-Edged Knife")
- old sailor* - drunken, black sailor suit, black and white striped shirt, long floppy hat, white hair and mustache (*deliberately allows himself to be found out, and taken to Jim) ("Watery Death")
- old sea salt - black pants, sweater and coat, gray slouch hat, thick boots, white hair and beard, bushy eyebrows, fishing pole, long-stemmed pipe ("Headless Woman")
- older woman (madam?) with wagon: women and alcohol - white hair, dress, shawl ("Freebooters")
- P. McGuffy* - Irish bootlegger - long black coat, gray pants, velvet black vest, white open-necked shirt, top hat, rumpled look, unshaven, tousled hair, half-drunk (*Karma recognizes his ear) ("Flaming Ghost")
- Paolo Martinez - Portuguese fisherman - black sailor suit, hat, mustache, unshaven, earring in right ear, slightly drunken ("Samurai")
- Pierre Gaspard* - guard on Devil's Island - dark blue uniform with light blue cuffs and epaulettes, white pants, blue hat with flaps, cane with gold head - discharged from Foreign Legion for the good of the service: treacherous, cowardly, cruel and dishonest, etc (*exposed by Lefou, who overheard Jim's conversation with Reed) ("Bottomless Pit")
- Poncho (impersonation)* - Mexican bandit, one of Sordo's men - black pants and jacket, sombrero, thin black tie, crossed gunbelts over chest, white shirt, long drooping mustache (*meets men who killed the real Poncho) ("Jack O'Diamonds")
- prison guard - black jacket belted around waist, black pants and hat, heavy-set, nightstick, no gun ("Cadre")
- Rufus Kraus (impersonation) - white nightshirt and cap, orange dressing gown, glasses, gray beard, mustache and hair ("Gruesome Games")
- Russian Orthodox priest - black robes and tall hat, gold necklace, thick Russian accent, long gray-streaked beard and mustache ("Cossacks")
- sailor - blue and black striped muscle shirt, wide brown belt, blue/gray trousers ("Turncoat")
- Salvatore - snobbish Italian waiter - black suit with red lapels and cuffs, black vest and tie, white shirt, black hair and longish droopy mustache ("Avaricious Actuary")
- Samuel P. Brainard - major, US Army Corps of Engineers - brown jacket and tan pants, tan vest and hat, white shirt, brown
tie, glasses, mustache ("Undead")
- scruffy trapper - grungy clothes, yellow shirt, brown trousers, coonskin cap, single black suspender, unshaven, drunk and hungry ("Arrow")
- Sir Ian Jellico Cooper-Feldstone - English tourist and hunter - tan jacket, gray knickers, deerstalker cap, white and brown checked shirt, thin red tie, white socks, black shoes and gloves, brown sideburns and mustache ("Colonel's Ghost")
- Spanish waiter - black uniform with red trim, bald on top, grizzled hair and mustache ("Running Death")
- stablehand - scruffy, green jacket to knee, dark brown pants, battered top hat, tan shirt open at throat, no tie or vest, hair tousled, unshaven ("Skulls")
- stevedore - black pants and long sleeved undershirt, gray overshirt, belted, soft cap ("Deadly Blossom")
- street preacher - black suit, vest and thin tie, white shirt, white straw hat with black band, long sideburns, mustache ("Bars of Hell")
- Strong Bear (or rather, the spirit of the dead man) (impersonation) - elaborate Indian ceremonial outfit with long headdress ("Arrow")
- Swedish waiter - black pants, white shirt, long white apron tied around waist, tan vest, yellow garters on both arms, brown hair and long sideburns ("Montezuma's Hordes")
- Thomas Link* - murderer seeking Lavender's services - dark gray suit, diagonal gray striped tie, light gray vest, glasses on a ribbon, bushy sideburns, accent (*henchman shadowing Jim and Artie recognizes Artie later) ("Ready-Made Corpse")
- Tigo (impersonation)* - hunchback, brown tunic with belt, left eyepatch, dark brown hair, sideburns and mustache, dark brown pants (*real Tigo shows up) ("Skulls")
- Uncle Heinzi* - Dutch or German - black suit, vest, hat and thick black tie, white mustache and hair, bald on top, glasses (*Manzeppi recognizes him; henchmen don't) ("Feathered Fury")
- whisky seller with wagon - member of Wichita Temperance League - gray check jacket with red piping, gray pants, thin red tie, white shirt, bowler hat, silver vest, glasses, sideburns ("Bubbling Death")
- workman - brown and green cap, gray shirt, green bandanna, charcoal overalls, unshaven, tool bag, accent ("Kraken")